Come to Northern California and Nevada and enjoy eleven AVA Year-Round and Seasonal events and a Ski event. We have it all!
The Tahoe Trail Trekkers is a local walking and hiking club which is part of a national organization called American Volkssport Association (AVA.org). AVA  is a non-profit, educational association that promotes fun, fitness and friendship by providing non-competitive walking, biking and other sporting events for everyone.
The Tahoe Trail Trekkers sponsor a yearly American Volkssport Association(AVA) Regular Event and five Year Round Walks and six Seasonal Walks that includes a Winter Ski seasonal event. The walks are located in two states (California and Nevada) including the Nevada Capital Walk.
The five Seasonal walks, from May 1 to November 30, are located in Tahoma (West Lake Tahoe),CA., Truckee,CA. and two in Tahoe City,CA, and includes one newly added seasonal Kings County walk in Hanford, CA.  In addition,  the club sponsors an AVA cross country ski event in the winter, January 1 to March 31 in Tahoe City. There are five Year-Round walks all located in Nevada; Reno ,Sparks, Carson City (Capital Walk ), and Virginia City.  New this year is one California Year-Round walk in Verdi (Sierra County) , CA.
There are over 1300 year-round (YRE'S) walks in the U.S. that you can do almost any day of the year with anyone you would like to invite along. All you have to do is register at the starting point and get your directions for the walk. They are usually 10km or 5 KM (6.2 or 3.1 miles) in length and take approximately 2- 3 hours to complete.
Weekend AVA events are hosted by local clubs throughout the year, in varied, often historic locations.
All kinds of people get involved in Volkswalking and walk for the exercise, a love of the outdoors, and the rewards of ; socializing, staying fit, meeting people, and seeing things they might miss if they simply drove through the area.
Volksporting is many things. It is going for a walk with other people – on the trail, through a park, forest, historical area or right in your own neighborhood. It is going for a bike ride, a cross-country ski-adventure, or a swim with family and friends. The goal of the American Volksport Association is to promote physical fitness and good health by encouraging all people, regardless of age, race, color, creed, or economic status, to exercise in a stress-free environment.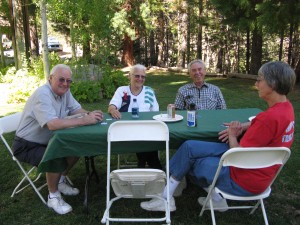 The Tahoe Trail Trekkers includes folks of all ages who enjoy hiking typically on Tuesdays and Wednesdays from May through October and snowshoeing and cross-country skiing in the Lake Tahoe area during the winter, with the scheduled outings open to club members only. The AVA events that includes the AVA walks and  snowshoeing and skiing is open to all.   The club is AVA sanctioned however the hiking, some skiing and snowshoeing is not sanctioned and are club only events.   Pets are not allowed on club only hikes or outings, however pets are allowed on some AVA events.
Any questions about joining the Tahoe Trail Trekkers please call or send an email inquiry.